How Today's Mortgage Rates Impact Your Home Purchase



If you're planning to buy a home, it's critical to understand the relationship between mortgage rates and your purchasing power. Purchasing power is the amount of home you can afford to buy that's within your financial reach. Mortgage rates directly impact the monthly payment you'll have on the home you purchase. So, when rates rise, so does the monthly payment you're able to lock in on your home loan. In a rising-rate environment like we're in today, that could limit your future purchasing power.
Today, the average 30-year fixed mortgage rate is above 5%, and in the near term, experts say that'll likely go up in the months ahead. You have the opportunity to get ahead of that increase if you buy now before that impacts your purchasing power.
Mortgage Rates Play a Large Role in Your Home Search
The chart below can help you understand the general relationship between mortgage rates and a typical monthly mortgage payment within a range of loan amounts. Let's say your budget allows for a monthly mortgage payment in the $2,100-$2,200 range. The green in the chart indicates a payment within that range, while the red is a payment that exceeds it (see chart below):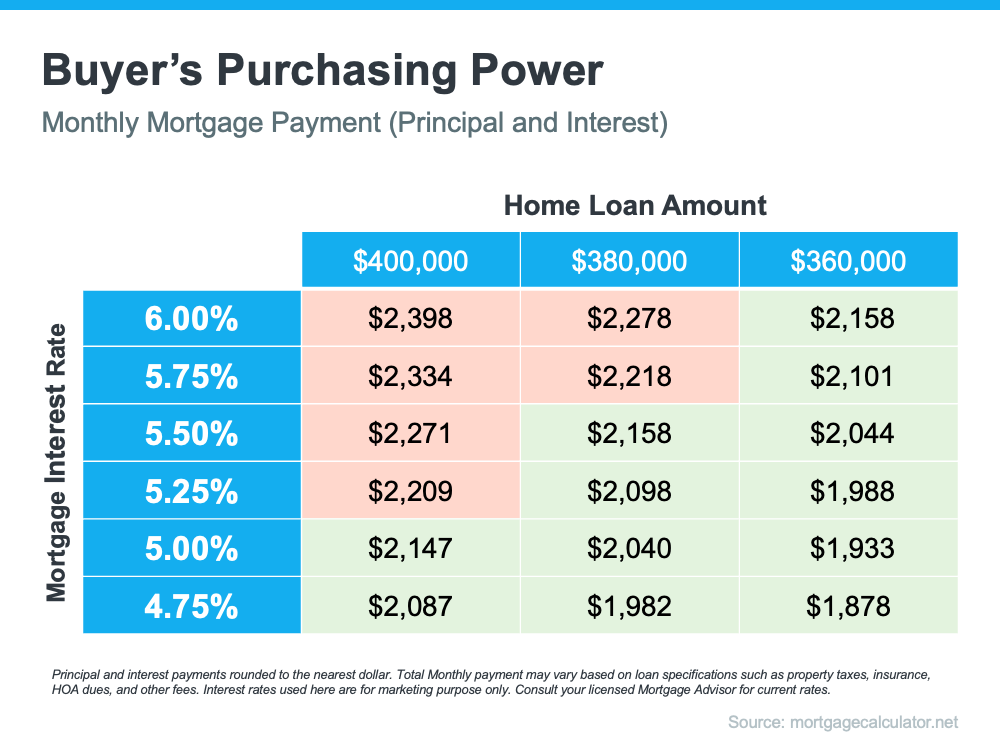 As the chart shows, you're more likely to exceed your target payment range as mortgage rates increase unless you pursue a lower home loan amount. If you're ready to buy a home, use this as your motivation to purchase now so you can get ahead of rising rates before you have to make the decision to decrease what you borrow in order to stay comfortably within your budget.
Work with Trusted Advisors To Know Your Budget and Make a Plan
It's critical to keep your budget top of mind as you're searching for a home. Danielle Hale, Chief Economist at realtor.com, puts it best, advising that buyers should:
"Get preapproved with where rates are today, but also consider what would happen if rates were to go up, say another quarter of a point, . . . Know what that would do to your monthly costs and how comfortable you are with that, so that if rates do move higher, you already know how you need to adjust in response."
No matter what, the best strategy is to work with your real estate advisor and a trusted lender to create a plan that takes rising mortgage rates into consideration. Together, you can look at your budget based on where rates are today and craft a strategy so you're ready to adjust as rates change.
Bottom Line
Even small increases in mortgage rates can impact your purchasing power. If you're in the process of buying a home, it's more important than ever to have a strong plan. Let's connect so you have a trusted real estate advisor and a lender on your side who can help you strategize to achieve your dream of homeownership this season.


8 STEPS TO BUYING YOUR FIRST HOME
1.

Get Pre-approved:

Unless you're paying cash a pre-approval letter from a lender will give you an edge when competing with other buyers. It will also provide a hardline budget-wise which will help you to look at houses you can actually afford. Note also that during this process and until you close on a loan it is crucial to keep your finances as steady as possible and don't go on a shopping spree for a new car, furniture &, etc. also, don't quit or switch jobs.
2.

Decide what you want

: The next step is to put together a wish list of features you desire or love. Be aware though that finding a home with everything on your wish list may be outside your budget. You need to be willing to look at your wish list and whittle it down to must-haves. If you are unwilling to compromise you might consider searching in less expensive areas. The key is to be realistic and be sure you can live with the compromises you make.
3.

Choose a Real Estate Agent

: You can find homes on your own, but a good agent can help you make sound decisions and guide you through the home buying process. They can also help you get access as soon as homes hit the market, before they may be listed online.
4.

Be Patient

: Today's market is challenging but you need to remember that buying a home may be the biggest financial decision you will ever make. Try to take enough time to view several homes so you can have a wide range of options and can then make a wise decision. Even in today's market, there will always be another home you like just as much.
5.

Submit your best offer first

: In the current market with multiple offers on every home, you need to come in with your best offer. By submitting your best offer first, be it offering at or above the asking price, waiving inspections (we don't recommend this), or being flexible with the closing date, it might be the most appealing to the seller.
6.

Get a home inspection

: If you are buying new construction or vintage bungalow GET AN INSPECTION! The last thing you want to find out is you have a foundation or roof issue after closing.
7.

Get an appraisal

: Your lender will need to know that there is enough value in the home to cover the mortgage. If you are paying cash it will tell you if you are overpaying too much or making a good buy.
8.

Close the deal

: This is the final step and is called "Settlement or Closing". This is where you get to sign a lot of official documents, swap checks, and are handed the keys to your new home. It's time to break out the wine it's all done.
We hope this info is helpful to you. If you would like to speak to one of our realtors about the local market or about taking the next step to purchasing a home, please don't hesitate to reach out to us.
GUIDELINES LENDERS USE TO DETERMINE A STRONG BUYER
When It comes to evaluating the creditworthiness of buyers, the following are a few questions a lender will ask to determine if you are a strong buyer.
Do you have a credit score above 600?
Have you had a bankruptcy or foreclosure? Has it been discharged two years or more?
Employment:
How long have you been at your current job? Need two years to qualify for overtime and commission.
Do you get paid hourly or commission?
Self-employed:
How long have you been self-employed? You will need two years of business existence or more.
What is your debt-to-income ratio? (what are your current monthly payments for debt)?
If you plan to use USDA financing, 41%
Conventional Financing 45%
FHA/VA up to 57.99%
How large of a downpayment are you planning on?
Conventional- If you have owned a home in the past 3 years, 5%
First time home buyers 3% down
Regular 20% down
FHA- 3.5% down
USDA/VA- 0% down
These rates are based on certain eligibility requirements that might change from time to time.
These are just guidelines to give you an idea of what will be asked, and we recommend you talk directly to your lender to better understand buyer qualifications and how it helps you. If you do not have a lender, we will be happy to recommend a couple.